Whether you need an annual flu shot or a series of vaccines for an upcoming adventure, stop by The Medicine Shoppe® Pharmacy for a convenient way to protect yourself against various diseases.
Our pharmacist has been certified by the American Pharmacists Association to administer immunizations right here in our pharmacy. We offer CDC-recommended immunizations that may include influenza, shingles, pneumonia, and vaccines for international travel. We can also help your child get the required vaccines for school.
We make it easy for you to keep up with routine immunizations because we want you, your family, and everyone in the community to be at their best. Stop by to see our complete list of offerings.
Call for information on less common vaccines. A prescription is not required for the flu vaccine for ages 7 and older, but a prescription is required for all other vaccines if under 18 years of age. Prescriptions are not required for any vaccines for people 18 and older. Vaccine shot records are sent your primary care doctor/nurse practitioner and registered on the Louisiana Vaccine Registry (LINKS)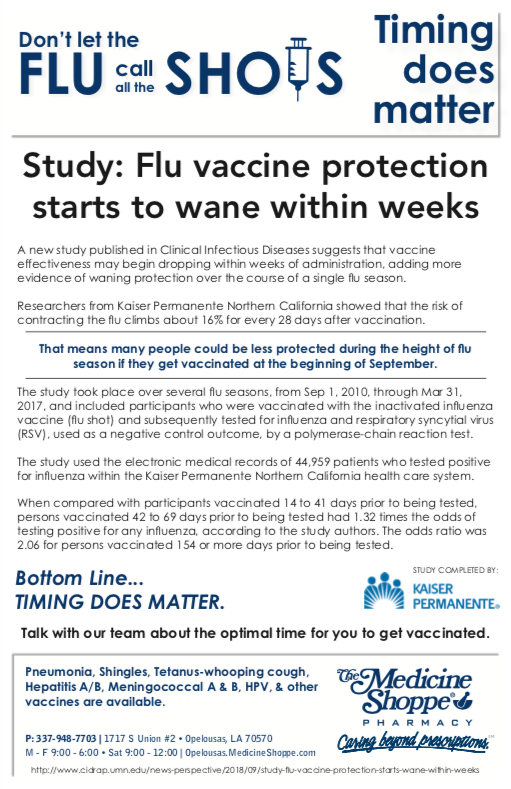 Vaccines Available at Medicine Shoppe Opelousas:
Hepatitis A (Havrix)
Hepatitis B (Engerix B)
Human Papilloma Virus (Gardasil 9)
Meningococcal ACWY (Menactra)
Meningococcal B (Bexsero)
TDAP (Tetanus/Diphtheria/Pertussis) Boostrix
M-M-R (Measles-Mumps-Rubella)
Pneumonia (Pneumovax 23 & Prevnar 13)
Flu shots during flu season
Varivax (Chicken Pox)
Moderna (COVID-19 Vaccine)
Please call 337-948-7703 if any questions.
Immunization Hours
Mon-Fri: 9am-6pm
Walk-ins welcome or call for appointment